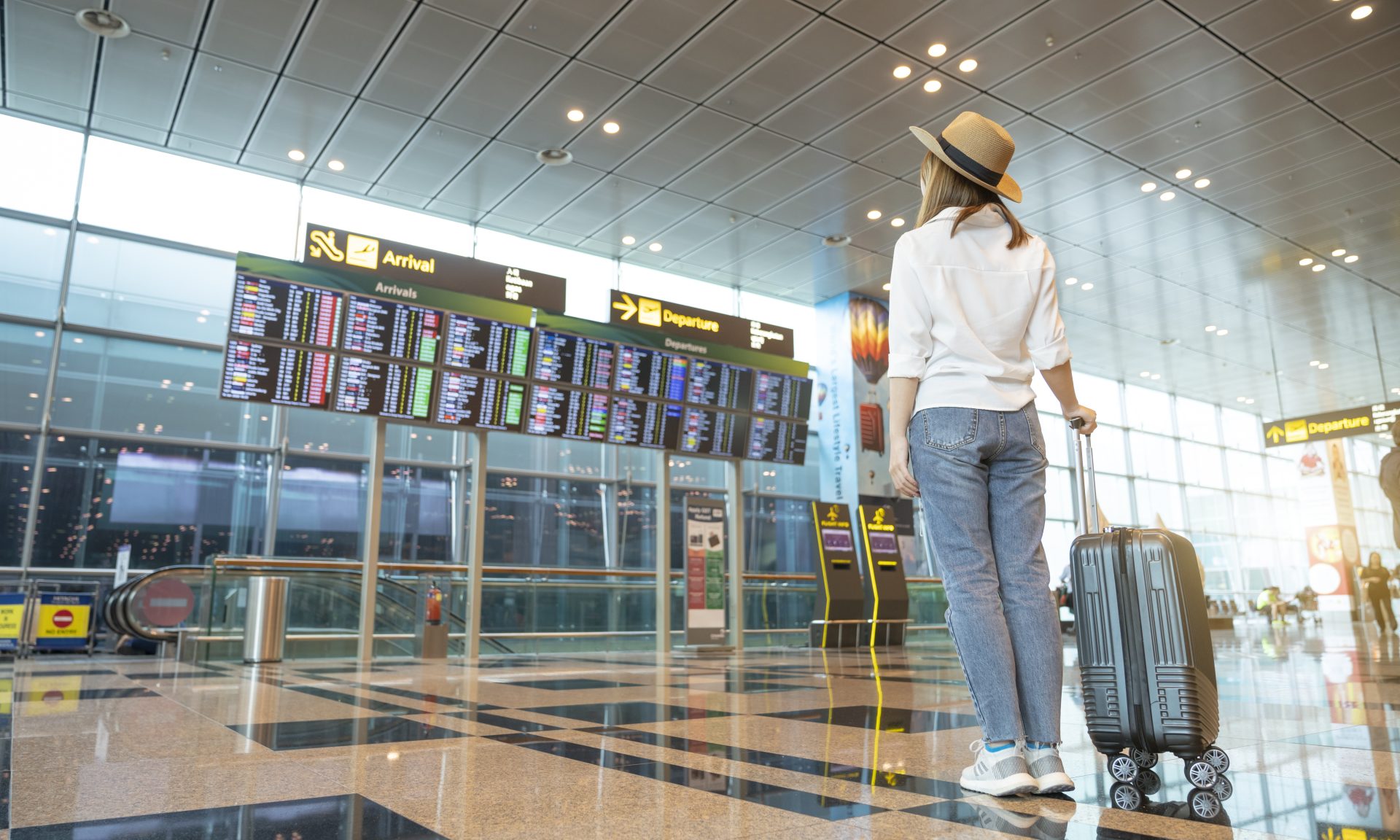 Your flight was just canceled. Now what? Unexpected disruptions can send even the most seasoned travelers into a frenzy.
Happily, flight cancellations are less common these days. For the first three months of 2023, the cancellation rate among U.S. airlines was 1.7%, down from 4.1% for the same period in 2022, according to the latest Air Travel Consumer Report from the U.S. Department of Transportation (DOT). But for the unlucky folks in that 1.7% bucket, a canceled flight often can be just as disruptive to your bank account as it is to your travel plans. That is, unless you make the right money moves.
From understanding your right to a refund to securing alternative arrangements, take these steps to get your trip back on track for minimal cost, while also getting the flight cancellation compensation you deserve.
1. Seek out the customer service desk
Assuming you're already at the airport, make a beeline for the customer service desk. Time is money, and others on the canceled flight will be headed that way, too, competing for what might only be a couple of available seats on the next departing flight.
The customer service desk is also the spot to request flight delay compensation. It's not legally required under U.S. law. Still, many airlines have made customer service pledges in the event of controllable cancellations and delays — promising relief like meals or travel vouchers for delays (usually of three hours or more). These are outlined in the DOT's Airline Customer Service Dashboard. Even if circumstances don't qualify under the airline's official pledge, the gate agent might still issue you bonus miles or meal vouchers for shorter delays — if you ask nicely.
Air travelers in Europe have even more rights. Under EU flight delay compensation rules, travelers are entitled to up to 600 euros for delays and cancellations, depending on the trip distance and length of the delay.
If you're not at the airport when you hear about your delay or cancellation, contact your airline's customer service via phone, mobile app or social media accounts.
Every major U.S. airline has promised to rebook passengers on the same airline at no additional cost, and many airlines rebook you automatically, which might eliminate the need to mob the customer service counter. If there's another flight you'd rather take that's to the same or a nearby airport as your original destination, you can typically ask to be moved, again usually at no additional cost.
Some airlines also let you rebook on a partner airline (for example, Alaska Airlines and American Airlines are partners) at no additional cost. Though, that also assumes the partner airline is flying the route you need to take.
If you want to fly with a different airline, you'll likely be on your own in terms of cost. And booking last-minute airfare is typically expensive.
While U.S. airlines are legally required to refund you for significant delays or cancellations, that might not be helpful if you snagged a $49 fare deal for a flight that has since been canceled, and you're now booking last-minute with a different airline for, say, $499. The $49 refund on a new $499 airfare might just feel like salt in the wound.
3. Assess whether you have travel insurance
The exact terms of travel insurance vary by policy, but if it includes trip interruption benefits, you may be refunded for additional costs incurred due to the cancellation. The best travel insurance policies will reimburse you for up to several thousand dollars in expenses.
Most major airlines will fund complimentary hotel accommodations for cancellations, but not all (such as Frontier Airlines), in which case travel insurance can help. Travel insurance can also get you compensation for alternate transportation arrangements, like a rental car or a flight on another airline.
Just ensure that the reason you're invoking your policy is truly a covered reason, as not every insurer will protect you from every scenario. For example, severe weather is typically covered, though not always. Meanwhile, a country closing its borders due to a pandemic generally is not covered by any policy except the most comprehensive Cancel For Any Reason policies.
You might have bought travel insurance from a specific insurance company or added it to your airfare upon checkout. But you might also have travel insurance without even knowing it. Many travel credit cards offer trip insurance as a perk simply for paying for that trip on the card. Check out your credit card's guide to benefits (typically mailed to you upon approval or posted online) to see if yours offers this deal.
While at the customer service counter, find the status and location of any checked bags. They could be on the aircraft or could have been offloaded. Ideally, your bags would be labeled with your contact info on luggage tags to alleviate any stress of lost stuff. However, stay in communication with airline staff to reduce the risk of being separated from your stuff longer than necessary.
While you should never pack essentials like medication in checked baggage (keep that in your carry-on), the customer service counter can usually help you retrieve your bags should you need to access your stuff in the interim.
Most travel insurance policies include some form of lost luggage reimbursement, so you can get money back for items you packed and lost, should your bags end up gone for good amid the chaos of a canceled flight.
CATEGORIES: