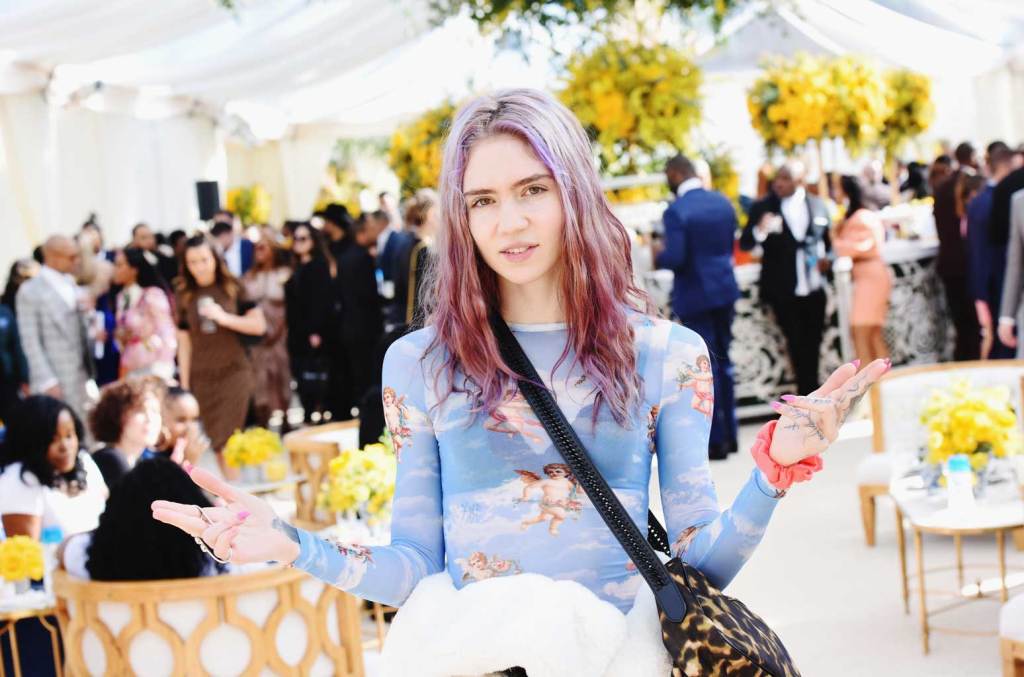 TuneCore has announced a new partnership with Grimes and CreateSafe, an AI development studio, to distribute songs made by independent artists using Grimes' 'Elf.Tech' AI voice model. The new partnership — which will split subsequent royalties made from the songs with the singer — is heralded by TuneCore as part of parent company Believe's "wider AI strategy."
Grimes made headlines last month when she responded to a headline about "Heart on My Sleeve" — the song that imitates Drake and The Weeknd, allegedly using AI technology — on social media, saying that she would allow fans to freely create songs using an AI model trained on her voice as long as they gave her 50% of the revenue. (Grimes said she would not claim any ownership of the sound recording or underlying composition unless the composition is a cover of one of her songs.) While Grimes wanted fans to use her voice openly, she also admitted on Twitter days later that there is the risk that people will use her voice to say "rly rly toxic lyrics" or "nazi stuff" — and clarified that she'd take those songs down.
Soon after, Grimes officially launched Elf.Tech, which allows fans to upload their songs to her site and then map her voice over pre-existing vocals. Since then, a number of songs have been made and distributed to streaming services that note "GrimesAI" as a featured artist, separating out these collaborations from Grimes' official artist page.
The pilot program for GrimesAI, in partnership with TuneCore and CreateSafe, will allow artists and fans to use Elf.Tech to upload pre-recorded a capellas or record their own original vocal tracks and transform them into Grimes' voice. Resulting songs using this vocal mapping can be uploaded to TuneCore with GrimesAI as a main or featured artist. According to the press release, Grimes will have the option to approve or deny all songs. TuneCore says it will also review the songs to ensure they adhere to streaming services' guidelines and that they split 50% of the master royalties with Grimes before distributing them to streaming platforms around the world.
Some skeptics were unsure how Grimes' plan would work in practice at the time of her announcement and whether it would be possible to actually police inappropriate content and proper royalty splitting. The TuneCore and CreateSafe partnership provides more of the necessary framework for Grimes to monitor and consent to what songs are released using her AI voice.
However, there are still some obstacles remaining. Other services, including Covers.AI, already offer unofficial versions of GrimesAI, which might remain difficult for the singer to keep track of. Plus, the manual approval process from both Grimes and TuneCore could prove to be difficult as the volume of songs using her vocal likeness increases.
The idea for the partnership came up during conversations at Beatport's International Music Summer in Ibiza in late April, according to a press release from Tunecore.
"The use of AI allows artists to enhance their creativity, build a deeper relationship with their fans through co-creation, and establish a new revenue stream," said TuneCore CEO Andreea Gleeson in a statement. "It also expands the pool of music creators by making it easier for people to create music. By joining forces with Grimes and CreateSafe, TuneCore becomes a first mover in the space, providing artists the opportunity to engage with AI technology in an innovative, streamlined process that provides tangible value and enables consent, control and revenue splits at scale. Going forward we're eager to explore similarly innovative initiatives on behalf of our artists."
Grimes added, "Very stoked to be working with CreateSafe and TuneCore to enable their users to distribute collaborations with GrimesAI to all major streaming platforms! Through this unique pilot partnership, I can consent to the use of my voice in other creators' releases, share revenue and easily distribute everyone's work. Excited to be trying new things!"
"Elf.Tech is the first showcase of our TRINITI operating system, a landmark platform for generative music AI," said CreateSafe CEO Daouda Leonard. "It empowers artists to train AI on their audio, visual, and literary IP, codifying and protecting their creative DNA and opening up pathways for other artists and fans alike to make new works that directly attribute and compensate the original source. In partnering with TuneCore, we're bridging the gap between the traditional music business and the future, streamlining cumbersome processes and reducing costs for the next generation of creators."
CATEGORIES: